When:
2020-04-12T00:00:00-07:00
2020-04-13T00:00:00-07:00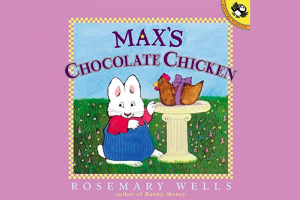 Max's Chocolate Chicken and
My Garden
1:00pm, 2:00pm, and 3:00pm
"Max's Chocolate Chicken" by beloved author/illustrator Rosemary Wells and narrated by Louise Roberts asks the ultimate question: Will Max's sister Ruby find the most eggs and win the chocolate chicken? But unflappable Max has his own ideas!
In "My Garden" you will meet a girl who dreams of creating a garden full of chocolate rabbits, flowers that change colors, seashells, and tomatoes the size of beach balls. Based on the book by Kevin Henkes, this film is narrated by Cassandra Morris.