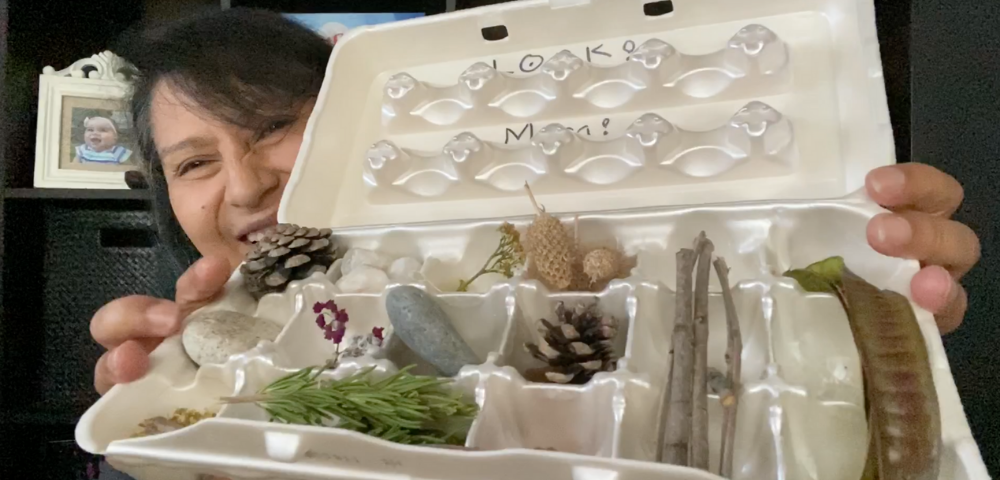 Create a treasure box collection of natural materials that will stimulate any child's creativity and imagination through discovery as they play.

MATERIALS
Egg carton/shoe box
Construction paper
Glue
Markers or color pencils
TRY IT!
Measure and cut a piece of construction paper for the top of your box.
Decorate the piece of paper and glue to the top of the box.
Optional: decorate the inside.
Go for a nature walk and collect:
rocks
twigs
flowers
leaves
seeds
feathers
Only collect items that are on the ground. Ask an adult to help you collect flowers.
GUIDING QUESTIONS
What do you see?
What do you smell?
What does this feel like?
LEARNING BEHIND THE PLAY
Supports early math skills through sorting and grouping exercises
Encourages your child's natural inclinations to collect and categorize objects
Supports language development through encouraging your child to discuss what objects they collected
TAKE IT FURTHER
Encourage your child to sort what they found by color, size, or texture. Challenge your child to experiment with what they found by building an insect or small animal home.