More about mammoths : Mammoth teeth

How Old Was Lupe? Clues from Teeth
Teeth can also provide clues about how old Lupe was. Just as our adult teeth replace our baby teeth, the mammoth also has a series of teeth. Mammoths had six sets of teeth, not just two like you!
Each set of molars had a different number of ridges. The first set (the youngest molars) have only four ridges. By the time a mammoth is two to three years old, it has six to nine ridges.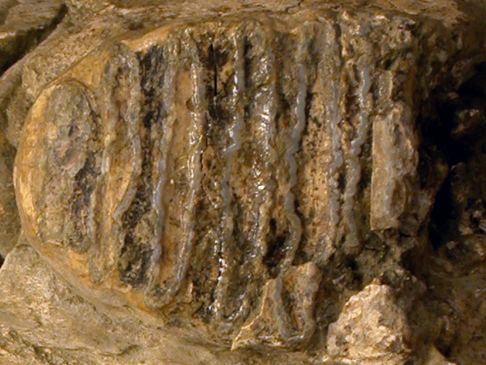 The oldest molars have up to 14 ridges. By looking at the molars in the jaw and counting the number of its ridges, paleontologists can determine the age of the mammoth when it died.
Paleontologists counted the number of ridges on Lupe's molar. Take a look at this picture of Lupe's molar. Can you tell how old she was when she died?

<< Back to More about mammoths.