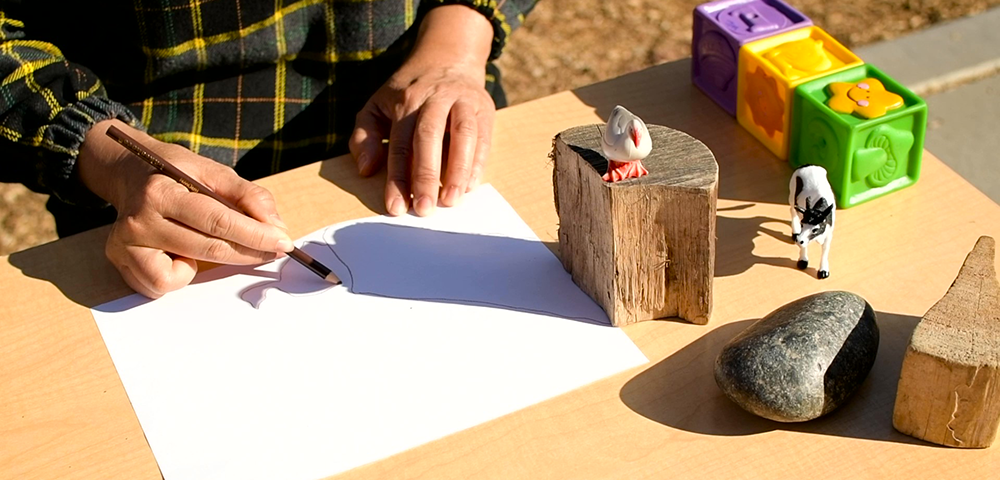 Light comes from different sources, the sun, lamps, or flashlights. Can you think of other light sources? We will be using different light and blocks to create art by tracing shadows.

MATERIALS
Paper
Markers, crayons, color pencils
Favorite small toys (truck, animals)
Light source (sun, lamp, flashlight)
Tape (optional)
English

Vietnamese

TRY IT!
Find a sunny spot inside or outside. If it is a rainy day, you can use a lamp or flashlight.
Place a piece of paper in a well-lit area. For smaller children, tape the paper down.
Build with blocks near or on the paper until you see a shadow.
Trace the shadow.
Color your shadow in to create a unique piece of artwork.
GUIDING QUESTIONS
What will happen when we place our blocks under the light (sunlight, lamp, or flashlight)?
Can you see a shadow? Where is it?
Where is the light coming from?
What happens when you move the blocks?
LEARNING BEHIND THE PLAY
Supports fine motor strength and coordination through object placement and drawing
Reinforces visual art, science, and math concepts through the exploration of geometric shapes, and cause and effect through shadow and light
Develops vocabulary skills through the discussion of shapes, shadow, and light
TAKE IT FURTHER
Read Bear Shadow by Frank Asch. Discuss the story with your child. Spend some time outside making shadows with your body and talk about how your shadow moves when the sun moves. Trace the shadow of your body's shape on the ground with chalk.