The West Wing is currently closed due to COVID-19 restrictions, but Potter the Otter has moved to our FoodShed space.
Potter the Otter: A Healthy Adventure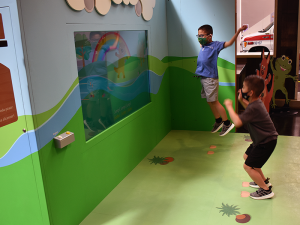 Potter the Otter invites visitors to join him on a fun new adventure to learn the healthy habits it takes to be your best self. Potter and his friends will show kids how drinking water, eating fruits and vegetables, and being active help you grow and stay healthy. Play along with Moose, Goose, Toada and the Skunks in this fully interactive, STEM-based experience.