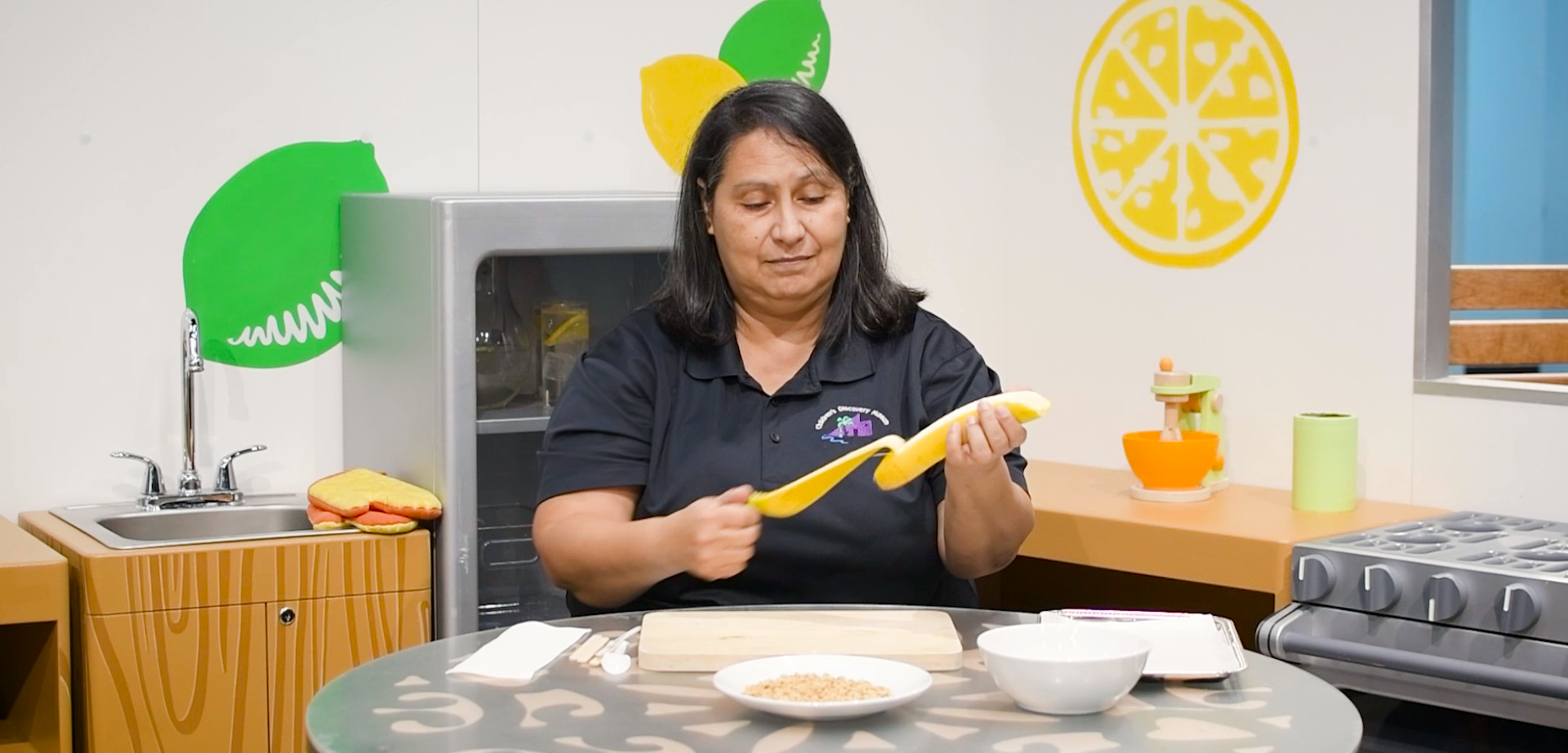 Your children will go bananas over this easy and fun snack.

MATERIALS
1- 6 oz yogurt cup (any flavor)
1/2 cup of cereal (any flavor)
1 banana
4 wooden popsicle sticks
Waxed paper
1 small tray
1 small bowl
1 small flat plate
Plastic knife
2 spoons
Paper towels
Cutting board
Airtight freezer container
English

Vietnamese

TRY IT!
Cover the tray with waxed paper.
Pour yogurt in the bowl.
Pour granola or cereal on the plate.
Peel and cut the banana in half. For smaller pieces, cut again into fourths.
Stand banana pieces on the cut side. Insert popsicle sticks.
Dip banana in yogurt, make sure the banana is completely covered.
Roll yogurt covered banana in granola or preferred cereal.
Place the banana on the tray covered with wax paper.
Repeat steps 6-8 with the rest of the bananas.
Place the tray into the freezer until frozen for at least one hour.
Enjoy!
Transfer bananas not eaten right away into an airtight freezer container.
GUIDING QUESTIONS
What is your favorite fruit?
Where do bananas come from?
What do you think it will taste like?
How would you change the recipe?
LEARNING BEHIND THE PLAY
Practice math skills by cutting and measuring.
Practice the skills necessary to follow step-by-step directions.
Teach life skills by introducing your child to cooking.
TAKE IT FURTHER
Let your child pick the flavor of yogurt and cereal brands.