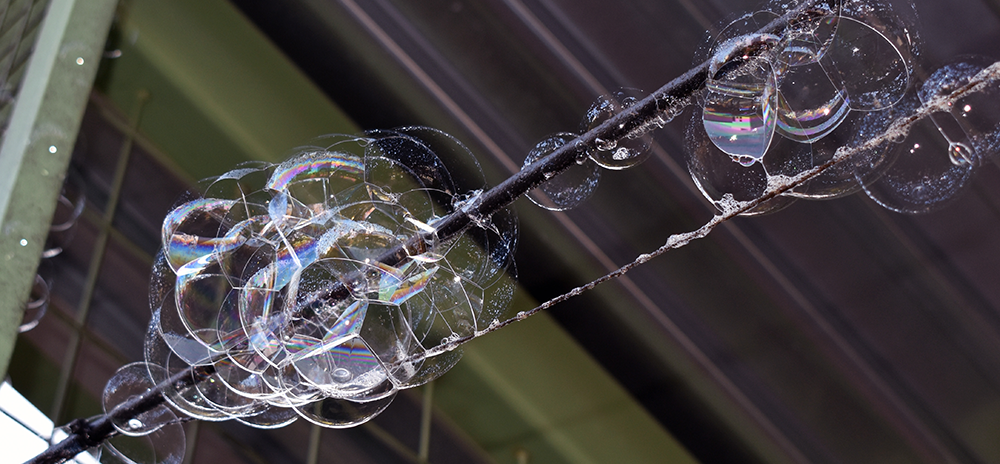 Bubbles has moved outdoors!
You'll marvel at the changing rainbow of colors and the fascinating properties of bubbles.
See who can create the biggest one with giant bubble rings and catch a falling bubble. You'll marvel at the changing rainbow of colors and the fascinating properties of bubbles.
Catch a falling bubble from the Forever Blowing Bubbles machine, see who can create the biggest bubble with the giant bubble rings, and make a bubble wall with the Bubble Stretcher. Find out why surface tension and soapy water are so crucial in making them.
Explore the Fascinating World of Bubbles
Bubbles are deceptively simple. They are beautiful, fun, and a gateway to the complexities of science.
Children can test many different ways of making bubbles – by blowing air through a tube, waving a wand, stretching a film out of a tub, displacing water with air, or wetting their hands to create bubbles without a wand. They can stack bubbles on top of each other to create a sculpture, make bubbles as large or as small as they want, and capture rainbows in a bubble film.
You and your child will experience physics hands-on and close-up as the bubbles reflect light and create rainbows. Explore the magic of surface tension as by seeing how big a bubble can stretch and by trying to change its shape.
Part of the magic of bubbles is their natural invitation to cooperation – one child creates a bubble, another tries to catch them. Within this cooperation, new learning happens. Children are able to observe others making bubbles and to combine what they see with their own explorations in order to problem solve and create something new.
While exploring the exhibit, try to discover why a bubble is always a circle or why soapy water is needed to make a bubble. Posters accompanying the exhibit explain surface tension, surface area, and the phenomenon of iridescence.