Spark the scientist within you:  discover, find out more and tell a story.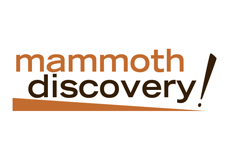 Come see a mammoth skull, femur, and pelvis fossils. Stand beside a full size replica indoors, and a model of a fully grown mammoth outdoors.
With more than 20 fun and interesting hands-on exhibits, conduct your own investigations and experience the thrill of scientific discovery. Before or after your visit, you can Dig Deeper to find out more about our mammoth discovery that happened right here in San Jose. Dig Deeper!
The Story of Lupe, our Mammoth in Residence
Journey back in time and learn the story of Lupe, a young mammoth who roamed the very same territory that would later become known as Silicon Valley.

In the summer of 2005, citizen scientist Roger Castillo was walking his dog, Jenna, along the Guadalupe River near the San Jose airport and discovered the skull of a Columbian mammoth. When paleontologists from UC Berkeley's Museum of Paleontology came down to conduct the excavation, they also discovered a thigh bone and the pelvis of this juvenile mammoth, now affectionately called Lupe, after the river along which she was discovered. Though now extinct, Lupe would have roamed the valley about 14,000 years ago.
Roger Castillo, paleontologist Mark Goodwin, and officials at the Santa Clara Valley Water District, on whose land the fossils were found, all believed that Children's Discovery Museum was the right place for these local fossils to reside and be made available to the public. What better place than the Museum to encourage children to practice their skills of observation, comparison, and exploration, just as Roger did?
Exhibit developers and researchers working on this project have been particularly interested in the idea of evidence, and how adults can encourage children to use evidence to explain things that they observe. In this technological age, where children are confronted with information from so many sources, the idea of being able to understand and grapple with evidence, check sources, and argue one's position with supporting evidence becomes increasingly important. Helping children begin to think beyond the discovery, to begin to ask questions and to want to find out more is the purpose of this exciting new exhibition. Because one day, one of the children who visits Children's Discovery Museum is bound to make the next important discovery that will change the course of history!
After being greeted by Roger, via video, children can begin their own fossil discoveries, digging in the riverbank to uncover bones, using brushes, simple chisels and safety glasses, just like paleontologists. A simple glance through the nearby window lets children imagine how San Jose might have looked during that time long ago, as they will glimpse a 13-foot tall mammoth peering back at them from outside, and a large berm shows different sedimentary layers that might be found here in the Bay Area.
Opportunities to see the actual fossils, discovered just two miles away, will delight children and adults alike as they begin to identify the skull, teeth, and tusks of Lupe. A small model of the skull helps children to understand the orientation of the fossil, and how it would have fit in the mammoth's head. Magnifiers provide a closer look at fossil dung that shows what plants grew in the area and provided the diet for the mammoths.
Young scientists can enter a lab-like environment that encourages them to find out more about the fossil bones. Using careful observation, comparison with other fossils and evidence from animals living today, children will notice that mammoth teeth look a lot like the bottom of a sneaker, that mammoth leg bones are at least twice the length of their own leg bones, and that mammoth tusks grew from the inside out, adding rings for seasonal growth, just like trees do. Puzzles of bone fragments and a scale comparing the weight of familiar items in a child's life to the weight of a mammoth provide more information for inquiring minds.
But the centerpiece of this area is the full size skeletal replica of Lupe, the mammoth. Scientists used the three bones that were discovered (skull, pelvis, and femur or thigh bone) to recreate a full skeleton of this magnificent creature. Dramatically lit and standing a full nine-feet tall, the replica inspires both awe and wonder. Children ask: How did this mammoth look when it was alive? When did it live? Why do the front legs bend backwards? Why were the tusks so long? Slides and a lightbox nearby encourage children to compare the skeletons of other animals to Lupe's while an interactive touchscreen features conversations with local paleontologists and geologists who helped excavate the fossils and analyze the surrounding soil.
"It's every paleontologist's dream to go back in time," said Kaitlin Maquire, paleontologist and Mammoth Discovery! project consultant. Exhibit developers knew that they had to include an area in the exhibition that would inspire children to dream about the time when Lupe, the mammoth, saber tooth cats, ground sloths and condors roamed the valley. An enclosed space allows visitors to enter another world, featuring a mural of that long ago time and small models of Ice Age animals that children can use to pretend to be animals living during that time. A shadow play area encourages children to role play scenes from life on the plains with the large animals.
When talking about the work of scientists, the role of creativity and communication is often overlooked. Yet, scientists have to be incredibly creative in their thinking, and they must always share their findings with others. The "Tell a Story" area invites children to use their imaginations, sending a strong message that as they share a story of exploration with a parent or friend, they are practicing important science skills.
Developed over a two and a half year period, the Mammoth Discovery! exhibition engaged content partners from the University of California Museum of Paleontology and learning research partners from University of California Santa Cruz. Children's Discovery Museum's rigorous exhibit design process includes the development of prototype exhibits that are tested with visitors for content, engagement, safety and durability.