The Legacy for Children Award honors an individual or organization whose legacy has significantly benefited the learning and lives of children.
Saturday, May 9, 2020, 6:00 p.m.
McEnery Convention Center, San Jose, Grand Ballroom

Honoring
Roberta Guaspari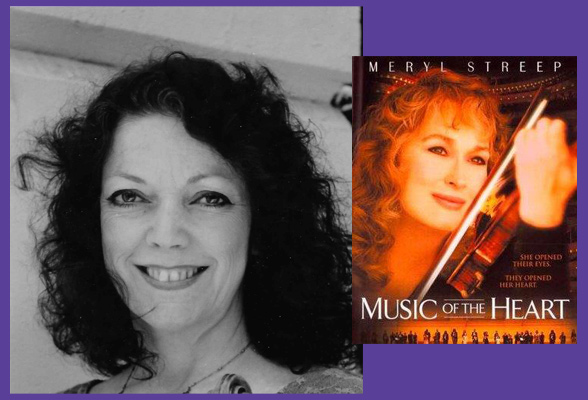 Roberta began her remarkable teaching career in three East Harlem public schools. Through her work, she has become an international figure in the fight for public school music education. In 1991 when funding for her teaching was eliminated, she joined with parents, teachers and other volunteers to continue the program. They created a non-profit organization, Opus 118 Harlem School of Music.
Opus 118 has served thousands of low-income children over the years, both in and after school. Roberta's story was the inspiration for the Academy Award nominated movie, Music of the Heart, starring Meryl Streep. Today, nearly four decades later, Roberta is still teaching violin in Harlem.

Previous Legacy for Children Award Honorees

Want to become a sponsor?
Become a sponsor of the 2020 Legacy for Children Award. You'll support the Museum's mission to inspire creativity, curiosity, and lifelong learning, and treat your friends and colleagues to an evening of fun, networking, and festivities.
Documents
2020 Legacy for Children Award Flyer | 2020 Donor Benefits
Table Reservations

Individual Sponsors
*Online transactions are securely handled by Blackbaud Merchant Services (BBMS)
Enjoy photos from our 2019 event honoring Dr. Milton Chen.
Thank you to our 2019 sponsors

$250,000
Bill & Linda Sullivan
$50,000
United Airlines
$25,000 – $30,000
Accenture • Adobe Systems Incorporated • Anonymous • Cadence • Bruce & Gail Chizen • Cisco Systems • Intuit, Inc. • Tom & Ann Livermore • Molex, LLC • Joseph & Jane Nettemeyer • Randy & Cindy Pond • PricewaterhouseCoopers LLP • Lisa & Matthew Sonsini • Valin Corporation • VMware, Inc.
$15,000 – $20,000
Deloitte LLP • Devcon Construction • Flagship Facility Services, Inc. • FLEX LTD. • Gilead Sciences, Inc. • Google • KPMG LLP • Alan Marks • Oracle Corporation • Qatalyst Partners
$10,000
Bain & Company • Big Sky Communications, Inc. • Cushman & Wakefield, Inc. • Dell / EMC • Patricia & Ron Eastman • eBay, Inc. • Ernst & Young LLP • Fenwick & West LLP • Latham & Watkins LLP / Luke Bergstrom • Littelfuse, Inc. • Charles & Joanna Lynch • Salesforce.com • SAP America • Shutterfly, Inc. • Paul Smith & Larraine Beal • Splunk • The Spur Group • Toeniskoetter Construction, Inc.
$5,000 – $8,000
ACCO Engineered Systems • American Express GBT • Jana Arbanas • Arthur J. Gallagher & Co. • Aruba a Hewlett Packard Enterprise company • Adrian & Jane Barry • Berry Appleman & Leiden LLP • Rajan & Amita Bhandari • Renu & Jagbir Bhatia • Andrew & Cheryl Blumenthal • BON APPÉTIT MANAGEMENT COMPANY • Kevin & Susan Canty • Cognizant Technology • Ruth Cox & Milton Chen • Kim & John DeCarlis • Experien Group • FireEye, Inc. • FIRST 5 Santa Clara County • Mark & Amy Garrett • The Geschke Foundation • Gibson, Dunn & Crutcher LLP • Jay & Lisa Hanson • Simon & Kathie Heap • Will & Marilee Jennings • Joseph J. Albanese, Inc. • Fran & John Katsoudas • Kevan & Cynthia Krysler • Martin Family Foundation • Craig Martin • Maxim Integrated • Okta, Inc. • Palo Alto Networks • Sercomm Corporation • SquareTrade • Streamlinevents Inc. • Tata Consultancy Services • Teleperformance • UST Global • Varian Medical Systems Foundation • Connor, Logan & Colin Watson • Jamie & Laura Wilson • Irene Wong and Lawrence Lee • WRNS Studio • Xilinx, Inc. • Xoriant Corporation
Up to $3,000
Accton Technology Corporation • AETNA • Akraya, Inc. • ARC TEC, Inc. • Christine Bastian • Liz Centoni • Amy Chang • Susan Clark • Comerica Bank • Covington & Burling LLP • Creative Group Inc. • GlobalLogic, Inc. • Herman Miller, Inc. • Infotree Service • Intelliswift Software, Inc. • Institutional Cash Distributors • Patricia Narciso • Northmarq • Pankaj & Smita Patel • Kirsten & Chris Rhodes • Stage 4 Solutions • Visionaire Partners
In-Kind Donors
AC Hotel San Jose Excazu • Adobe Systems Incorporated • Alaska Airlines • Alegio Chocolate • Anonymous • Aperture Academy • Aqui Cal-Mex • Jana Arbanas • Avis Budget Group • Renu Bhatia • Blossom Hill Crafts • Cindy Bullock • Karen Burshnick • Cal Academy • Jeanette Calandra • Cal Athletics • California State Railroad Museum • Carnival Foundation • Chicago Marriott Naperville • City Lights Theater • The Conservatory of Flowers • Costa Rica Marriott • Courtyard San Jose Airport Alajuela • Courtyard San Jose Escazu • The Crucible • Kim DeCarlis • Delta Air Lines • Dena Donahue • Denver • Marriott Westminster • Dream Inn • Lynda Elliot • The Dworak Family • Pat & Ron Eastman • ExpertQuote • Laura Fennell • Filoli Historic House & Garden • Ann & Vic Fischer • Flex Fusion Studios • Channing Flynn • Gigi Gems • Golden State Warriors • Jack Guydish • • Brian & Rosie Hames • Hilton Garden Inn Atlanta Perimeter • Humanscale • Marilee & Will Jennings • Kenneth Volk Vineyards • Legion of Honor or the de Young • Tom Livermore • Marriott Austin North • Marriott Omaha • Ken & Debbie McKenzie • Monterey Bay Aquarium • Hole Nguyen • Pivot Interiors • Renaissance Austin Hotel • Renaissance Boulder Flatiron Hotel • Residence Inn San Jose Escazu • San Francisco 49ers • San Francisco Museum of Modern Art • San Francisco Wine School • San Jose Sharks • San Jose Sheraton Hotel • Sheraton Palo Alto Hotel • St. George Spirits • Stanford Athletics • Sweet Farm • The Tech Museum of Innovation • Tito's Handmade Vodka • Venus Spirits • The Westin Westminster
Major Program Sponsors
CEFCU • City of San José • The David and Lucile Packard Foundation • FIRST 5 Santa Clara County • Freeman Foundation • Institute of Museum and Library Service • Kaiser Permanente • National Oceanic and Atmospheric Administration • Oracle Corporation • Xu Family Foundation