Zoom Zone at Mineta San Jose International Airport
Children now have a special place to get their wiggles and giggles out before boarding an airplane – Zoom Zone. This new educational and interactive play space for very young children around the theme of "all things that fly" is located in Terminal B between Gates 24 and 25.
Zoom Zone is the perfect spot for family travelers. We designed the space around the belief that children are fascinated by what they see in the sky and that many young children have never flown on an airplane.
This exciting new addition to the airport is in partnership with Mineta San Jose International Airport and is sponsored by Zoom Video Communications, Inc., (Zoom).
Children can imagine creatures and objects that fly, while experimenting with air, wind, wings, and design that makes flight possible. There are familiar features of airports and airplanes including oval window shades displaying artwork commissioned from six artists specifically for this project.
Zoom Zone Grand Opening
What's in Zoom Zone?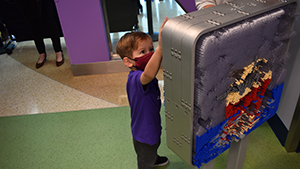 Pin Screen
We couldn't open Zoom Zone without the signature experience at Children's Discovery Museum. Push your imagination!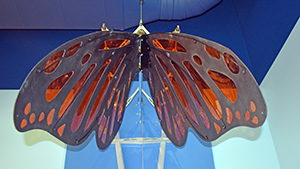 Kinetic Butterfly
Get up close to these beautiful butterfly wings to activate the gears for flying.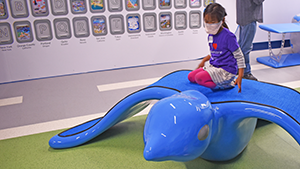 Bird Climber
Climb on top of a bird, then slide down its tail feathers and crawl underneath its wings to give you a 360-degree perspective of flight.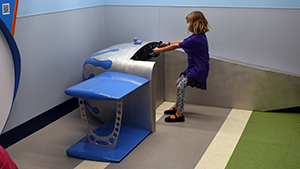 Plane Kiosk
Enter the cockpit of a fun bi-plane and imagine what it's like to be a pilot.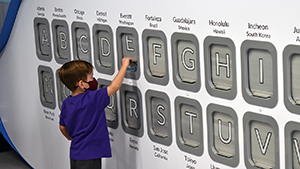 Alphabet Airplane
By lifting the shades, you'll discover artistic depictions of a destination that begins with the corresponding letter. For example, S is for San Jose.
Alphabet Artists & Designations
The Alphabet Airplane windows display artwork by six commissioned artists, featuring 26 places from around the world that were created specifically for Zoom Zone. Each window is a destination that you could fly to from Mineta San Jose.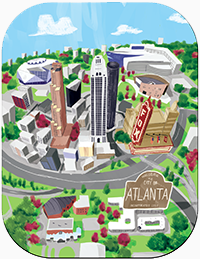 Khamron Brooks
Khamron Brooks uses his passion for visual art to create pieces that span across a spectrum of various styles and media.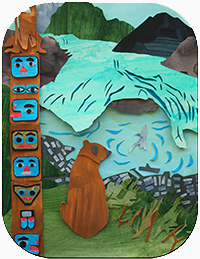 Saskia Krafft
Saskia Krafft's drawings and sculptures are inspired by experiences with nature, adventures while traveling, and the sensation of being in motion.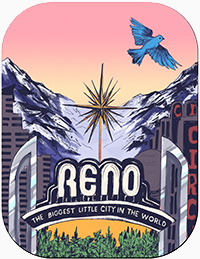 Tiffany Lin
Tiffany Lin is a visual artist whose conceptual work examines how power is expressed in the subtext of American vernacular.
Frances Marin Lopez
The mysterious nature of life, both real and imagined, leads Frances Marin Lopez to explore everyday familiarities, dreams, travels, memory, the subconscious, and humor in her work.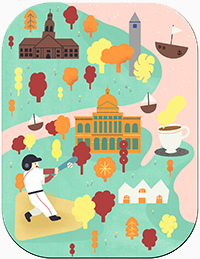 Lyssa Park
Lyssa Park's illustrations and comics are inspired by daily encounters, family relationships, and animals.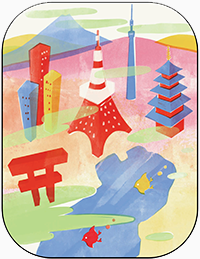 Harumo Sato
Harumo Sato's work aims to seek coexistence with nature and to create peace in viewers' minds by combining psychology and the spirit of prehistoric to medieval artifacts in the Mediterranean Sea and Japan.
Hear from our exhibit fabricators!
Zoom Zone Opening Teaser
Thanks to our creative collaborators!

Juan Carlos Araujo, Empire Seven Studios (E7S)
Tiffany Lin, Visual Artist
Associate Professor at UNLV
Former artist-in-resident at the Museum's LeRoy Neiman Art Studio and A Seat at the Table
Made possible through the generosity of