Hands-on art activities are back! Join us in The LeRoy Neiman Art Studio
September Calendar
Saturdays & Sundays
10 a.m. – 12 p.m. | 2 p.m. – 4 p.m.
September Activity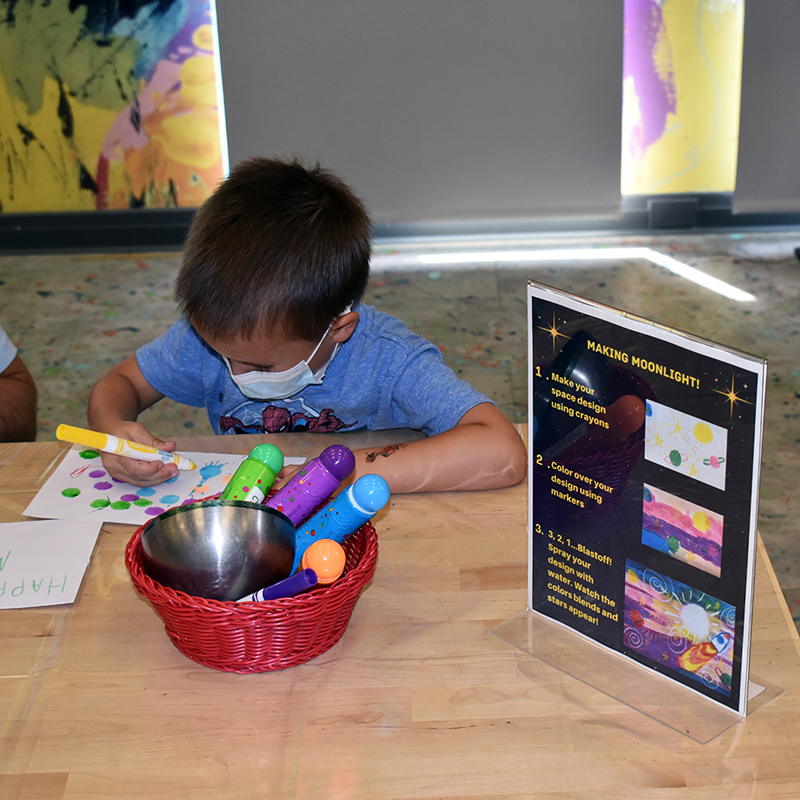 Making Moonlight!
Making art can be out of this world! Join us and we'll make planets, rockets, asteroids, stars, and the moon using markers and crayons. When you're ready, we'll count-down: 3, 2, 1… Blastoff! and spritz your drawing with water. Watch your drawing transform as stars and galaxies appear in the ink. We're excited to space travel with you!
October Calendar
Saturday October 1st
Sunday, October 2nd
Saturday, October 8th
Sunday, October 9th
October Activity: Incredible Insects
What is symmetry and where do we see it in nature? What are some ways that we can try to make our drawings the same on both sides? Join us in the LeRoy Neiman Art Studio to learn about symmetry and insects using oil pastels. Draw one half of a butterfly, dragonfly, spider, or ladybug. Then fold your paper in half and rub the paper using your hands or a tool to discover what happens. Then we'll spend some time decorating your insect to make it truly incredible!
Artist-in-Residence
October 7th, Open Studio Hours
10:00 a.m. -12:00 p.m. | 2:00 p.m. – 4:00 p.m.
Join us in the LeRoy Neiman Art Studio for our Artist-in-Residence's Open Studio Hours. Evelyn Anderson is an oil painter, muralist, and poet whose family portraits explore the idea of homeland and belonging. Her work is guided by Lenca traditions that say the water is full of life, and that it is our duty to protect it. Come share your ideas and questions with her while you watch the creative process unfold!
Stay Tuned: Upcoming Artist-in-Residence
Watch for more information welcoming our upcoming Artist-in-Residence and our new hands-on art activity for the rest of October!
Learn more about our Artist-in-Residence and the Artist-in-Residence program.

Digital Art Party!
The LeRoy Neiman Art Studio is open with a whole new way of creating art. Visitors can use their hands, arms, legs, feet, and their whole body to interact with digital art projections. Action painting, disco dancing and playing with Neiman's artwork up close are all possible in the newly reopened studio.