Hands-on art activities are back! Join us in The LeRoy Neiman Art Studio
February Calendar
Saturdays & Sundays
10 a.m. – 12 p.m. | 2 p.m. – 4 p.m.
Hands-on Art Activity: Fun with Suncatchers with Artist-in-Residence Muneeba Zeeshan
These colorful suncatchers don't just catch the sun–they catch a lot of joy as well! Glue colorful tissue paper onto wax paper to create a suncatcher that will light up your window. You can learn about color theory by layering different colors on top of each other to see what new colors you create.What happens when you layer blue and yellow, or red and blue? Cut your suncatcher into different shapes such as a heart, star, or truck. Where will your imagination take you?
Artist-in-Residence
Announcing our new Artist-in-Residence: Muneeba Zeeshan!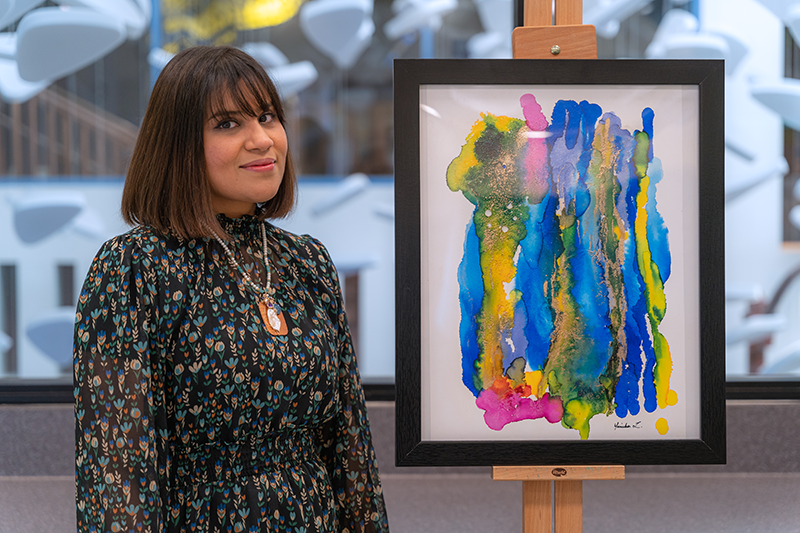 January 14 – April 8, 2023
Muneeba Zeeshan's mixed media artwork uses alcohol ink and acrylic ink on Yupo paper and canvas to create abstract work that simultaneously rises, evaporates, exudes and overflows. Though Zeeshan may have an idea for a painting's sentiment or message, she ultimately collaborates with the ebb and flow of inks, osmosis, and gravity to let the colors speak for and among themselves. Through this exchange, she creates something that is earthy, fluid, and ethereal all at once.
Born in Pakistan, Zeeshan's father was a journalist and radio broadcaster and her mother was a geography teacher. Raised in the Middle East, Zeeshan got a chance to travel across the world and now she resides in the sunny San Francisco Bay Area. She brings these global influences into her work, where she draws inspiration from nature to current events. Zeeshan learned the legacy of artmaking from her mother, and today she inspires her four children's creativity and integrates them into her artmaking process. Muneeba Zeeshan makes artwork in an effort to rekindle joy and new hope in times of adversity. She also authored a children's book with her children called Ramadan in Space.



Learn more about our Artist-in-Residence and the Artist-in-Residence program.

Digital Art Party!

The LeRoy Neiman Art Studio is open with a whole new way of creating art. Visitors can use their hands, arms, legs, feet, and their whole body to interact with digital art projections. Action painting, disco dancing and playing with Neiman's artwork up close are all possible in the newly reopened studio.