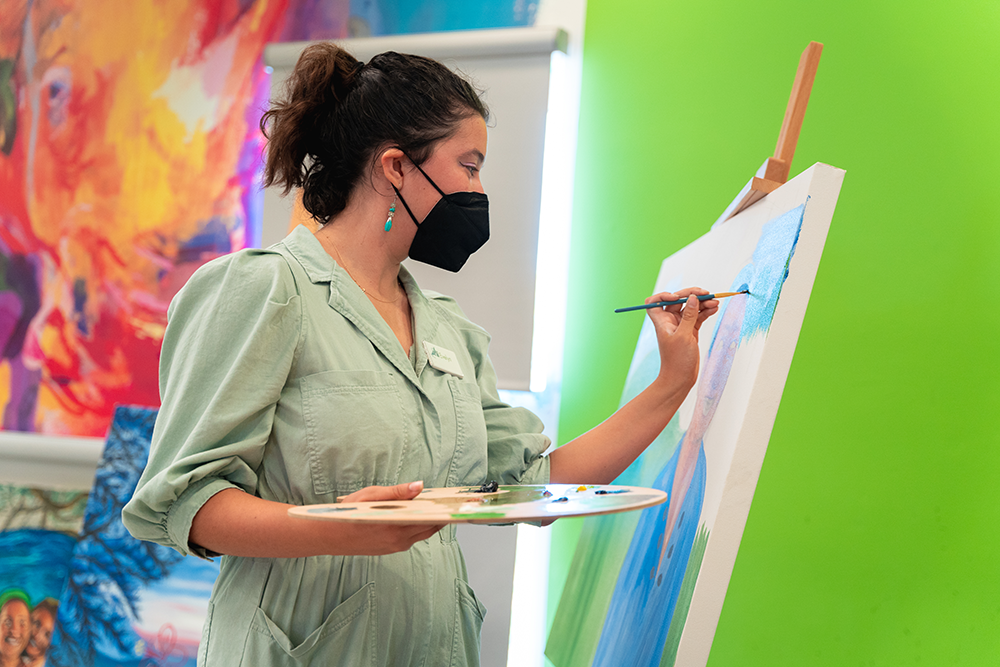 About the Artist-in-Residence Program
At the Children's Discovery Museum of San Jose, we believe that the arts are a place where we are able to discover ourselves, explore the world around us, imagine brilliant futures, and connect with our communities. We believe that the arts are not a luxury, and instead, that art and creative expression are a key part of every child's development and education. We strive to teach children that the arts and culture are not only something they can interact with, but something they can also help to create.


Our Current Artist-in-Residence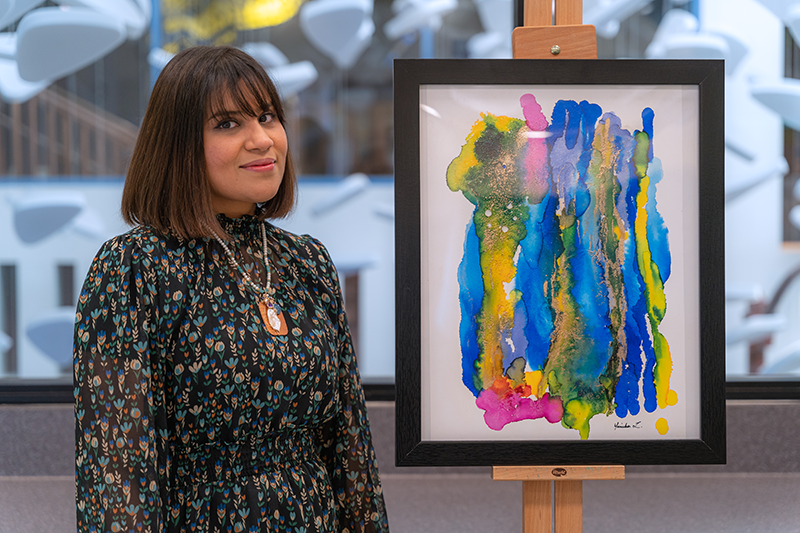 Muneeba Zeeshan
January 14 – April 8, 2023
Muneeba Zeeshan's mixed media artwork uses alcohol ink and acrylic ink on Yupo paper and canvas to create abstract work that simultaneously rises, evaporates, exudes and overflows. Though Zeeshan may have an idea for a painting's sentiment or message, she ultimately collaborates with the ebb and flow of inks, osmosis, and gravity to let the colors speak for and among themselves. Through this exchange, she creates something that is earthy, fluid, and ethereal all at once.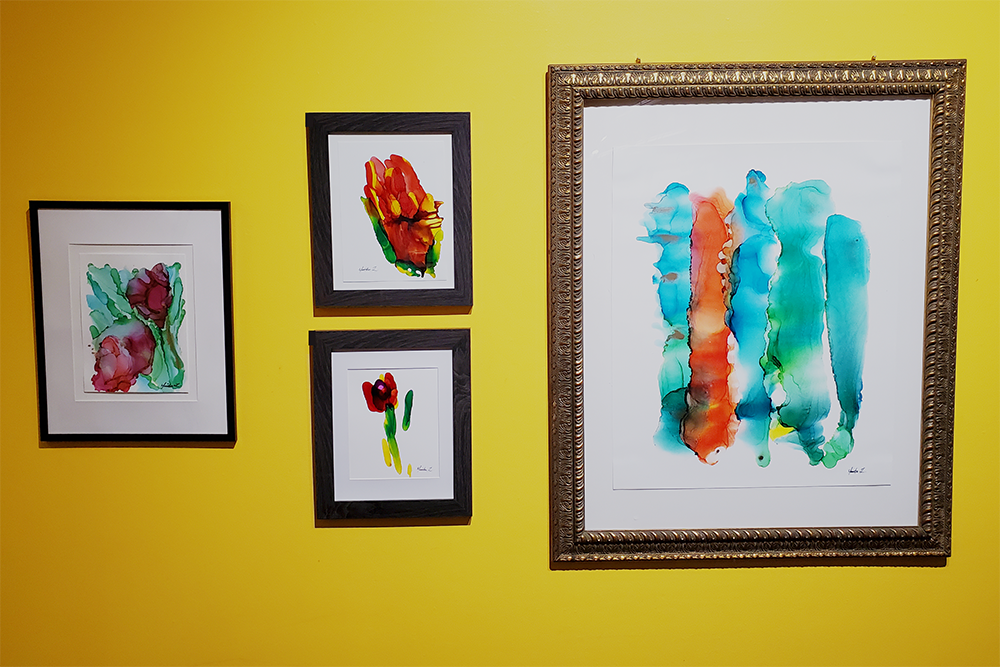 Born in Pakistan, Zeeshan's father was a journalist and radio broadcaster and her mother was a geography teacher. Raised in the Middle East, Zeeshan got a chance to travel across the world and now she resides in the sunny San Francisco Bay Area. She brings these global influences into her work, where she draws inspiration from nature to current events. Zeeshan learned the legacy of artmaking from her mother, and today she inspires her four children's creativity and integrates them into her artmaking process. Muneeba Zeeshan makes artwork in an effort to rekindle joy and new hope in times of adversity. She also authored a children's book with her children called Ramadan in Space.
Our Past Artists-in-Residence
Rayos Magos
October 15, 2022 – January 8, 2023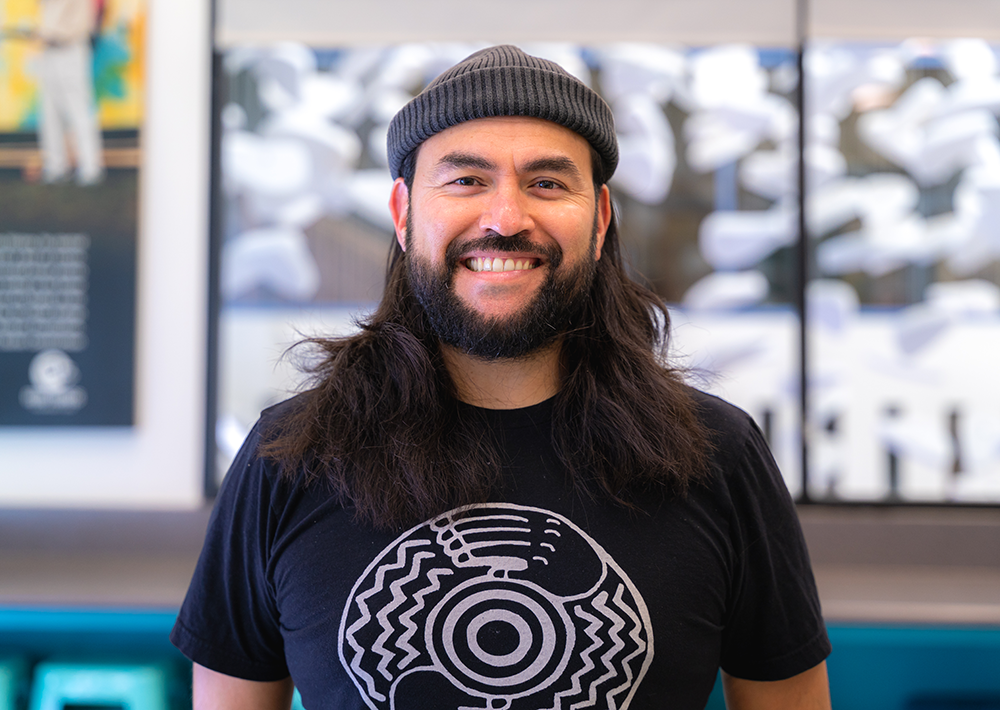 As an Latinx artist Rayos Magos is constantly inspired by culture, people, identity, and the roles we play in society. He creates fluidly between mediums such as collage, printmaking, painting, and sculpture. His background is in Counseling Psychology with a specialization in Expressive Arts Therapy, and his body of work focuses on symbolism, healing, spirituality, psychology, and social justice. Rayos Magos's past and present work has been influenced by his own investigation into his ethnic and cultural identity as a Chicano (Mexican-American/Latinx) person living in the U.S. He makes work for the community with the intent to bring hope, joy, love, compassion, and community-building through imagery.
Each day his arts practice continues to evolve while staying rooted in community and building long lasting partnerships. He is a passionate advocate for the healing power of the arts and will continue creating, sharing and advocating for community members to experience art in various ways.
Evelyn Anderson
July 1 – October 14, 2022
Evelyn Anderson is the Children's Discovery Museum of San Jose's Arts Program Manager, where she is responsible for developing arts programming that introduces children to professional artists, engages them directly in the creative processes, and celebrates San José's unique cultural diversity. She is our first Artist-in-Residence of 2022.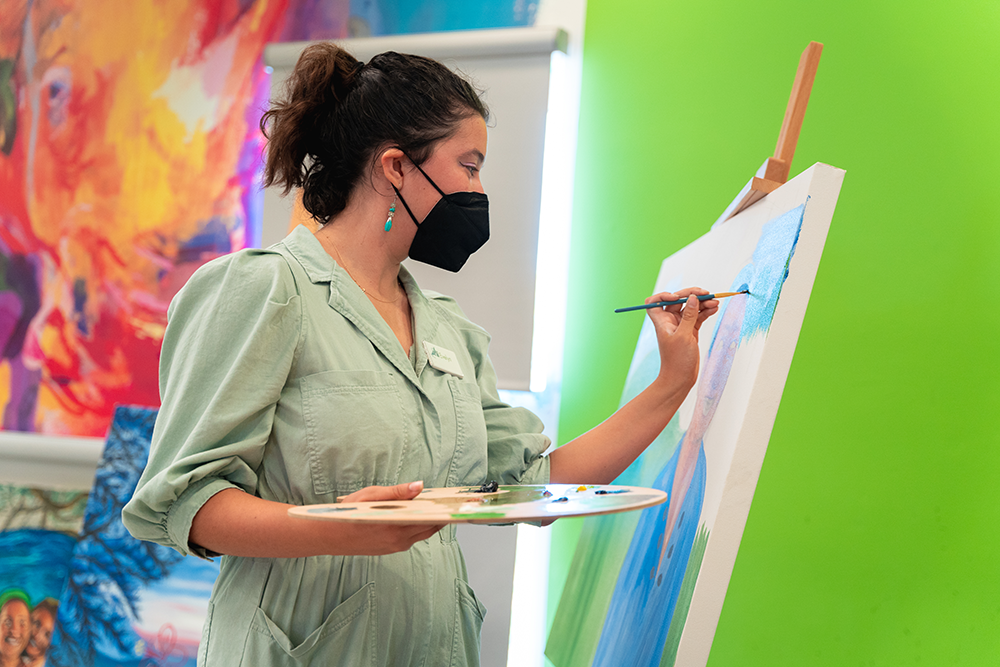 Evelyn Anderson is an oil painter, muralist, and poet whose family portraits explore the idea of homeland and belonging. Her work is guided by Lenca traditions that say the water is full of life, and that it is our duty to protect it. Anderson finds relationship to water by painting it in its many forms—ocean, river, lake, cloud, and even in our own bodies. By conducting interviews with family members and friends in her mother's hometown in Honduras, Anderson's paintings create a visual archive of family histories. She recreates the ideas her family shared with her by painting plants, animals, and bodies of water from their stories. By portraying moments of family joy and belonging, Anderson's paintings replace distance with intimacy—barriers with transcendence. By creating these images of joy and unity, her work mends the relationship between the body, shared memories, family, and nature."
For more information about the Artist-in-Residence's current hands-on art activities with children and families, please visit: The LeRoy Neiman Art Studio.