We strive to develop and enrich our programs and exhibits through research, while also serving as a highly regarded research & development resource for formal education, lifelong learning, and new initiatives in museum and other informal learning arenas.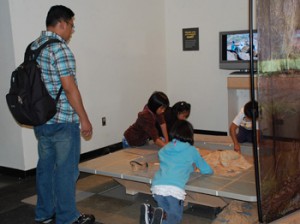 At Children's Discovery Museum,  every exhibit has been carefully constructed to maximize parent and child interaction, engagement, and learning. Materials, textures, and interactive experiences are often explored by a group of researchers to find out how children best relate to their environment and how the experiences encourage conversations between parents and children. CDM teams up with various research institutions to both fulfill CDM's need for data and analysis and to fulfill the researchers' need for research participants. CDM's collaborations produce innovative exhibits and educational programs informed by cutting-edge research specific to the Museum. CDM, in turn, offers a more natural "laboratory" for researchers, where families are thinking, talking and playing together. Going one step further, CDM recently established a permanent research lab in the Mammoth Discovery! gallery to ensure that mutually beneficial projects can continue in the future.
Generally, two types of research occur at the Museum. Developmental psychology research, currently performed by Maureen Callanan of UC Santa Cruz and Mike Frank of Stanford, studies children's causal thinking, language acquisition, problem solving, and social development. Audience research, conducted by in-house and external partners Garibay Group, Randi Korn & Associates, Encore Fellow Melissa Demaray, and Stacey Gilman, tries to understand what draws folks from different constituencies to CDM, and how they can be best engaged through visitor services.
More than a decade ago, CDM launched a research partnership with developmental psychologists Maureen Callanan and Kevin Crowley at UC Santa Cruz to understand science learning in the Museum's informal setting. This research continues to yield dramatic and useful information that has helped CDM address gender and equality issues through exhibit development as well as to better understand how children's thinking develops within the social and cultural context of family conversations about science.
Callanan and her research team are deeply aware of child development, understanding CDM's target audience in a socio-cultural way, often serving as a "sounding board" during exhibit development meetings. Researchers have also provided invaluable foundational research, documenting "before and after" prototypes and conducting formative evaluations.
As you enjoy the Museum, you may encounter our teams of researchers, and even get the chance to participate in a study! The UC Santa Cruz team usually works weekends over an 8-week period of time. They videotape family interactions as they engage with exhibits, and they invite families into the research room to engage in specific exhibit-like experiences and answer brief interview questions. The videotapes are later studied for information about how children of different ages communicate with their parents and learn from exhibits.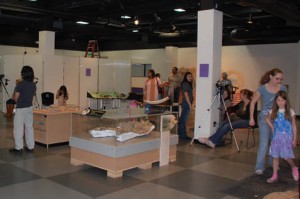 Researchers from Stanford are currently at CDM every weekday it is open, Tuesdays through Fridays. To study how children associate words with objects, they videotape subjects and shine a non-invasive UV light into their eyes, tracking eye movement.
While the developmental psychologists usually rely on a smaller sample to observe and analyze (although they do use larger samples as well), the audience researchers need 150 to 200 visitors to study in order for their results to be statistically significant. They usually come on the busiest days (Friday, Saturday, Sunday) to track and time how long folks stay at different parts of an exhibit. A team from Randi Korn & Associates, a national audience research firm, began last summer to find out how much visitors learn from experiencing the Mammoth exhibit. Melissa Demaray has been studying audience experience, using surveys to determine what folks love about CDM and what they feel could use improvement. This will inform our programs, exhibits and customer service going forward.