Our work is grounded in the idea that we are a learning institution.
Best practice at Children's Discovery Museum involves testing our hypotheses about children's learning to find out if children interact with our exhibits in the ways we intended, and whether they seem to have the kinds of experiences that we thought they were going to have. We have a long history of prototyping all of the exhibits we build to make sure children are both physically and mentally engaged in their learning. Often, this process introduces our exhibit developers to ways that the exhibit can be improved because children look at things differently than we do.
As valuable as children are to our research, they aren't the only ones who help us hone our craft. For over 16 years, a team of cognitive psychologists from the University of California Santa Cruz (UCSC), led by Dr. Maureen Callanan, Ph.D., have partnered with us to conduct research on how children develop an understanding of their world through everyday interactions.
Prototype testing for our Mammoth Discovery! exhibit began even before we started fabricating exhibits. UCSC researchers gathered information from questionnaires regarding parents' depth of science knowledge and their comfort level with talking science with their children. From the very beginning we wanted to create an exhibit that was rich in content, substantiated by thorough testing and research, and accessible to audiences of all backgrounds.
After conducting this underlying research, we were ready to begin testing actual exhibits. There were three phases of prototype testing, each designed to test different exhibits. For each phase, the UCSC research team, composed of independent study students under the direction of Dr. Callanan, would come to the Museum on Saturdays and set up cameras and microphones to capture family interactions with the exhibits. All research was conducted with parent or guardian permission and no child was filmed or recorded whose family did not approve.
The researchers collected data for three to six weeks before returning back to their labs to parse down the video footage into individual family interactions. For each phase, Dr. Callanan would then report back to our exhibit development team (fondly named the Lupe Team) to share important quotes, exciting findings and significant challenges.
All of our exhibits undergo a very similar prototyping experience. Our Senior Exhibit Developer, Sara DeAngelis, believes the collaboration for our Mammoth Discovery! exhibit was "incredibly powerful" because we were able to use our longtime collaboration with UC Santa Cruz and the depth of scientific knowledge from the paleontology staff at University of California's Museum of Paleontology to create an exhibit based on scientific evidence and genuinely focused on the audience.
How Research Influences Development
Our Mammoth Discovery! exhibit has three content areas, modeled after the processes that scientists go through. The entire exhibit is designed to help children make discoveries, find out more about them and tell a story based on their explorations. One of the exhibits is designed to help children tell their own stories about things that they have discovered about mammoths and San Jose. Using a series of thin wooden cards, each depicting scenes of Silicon Valley long ago or recently, children can create their own stories to share with their families.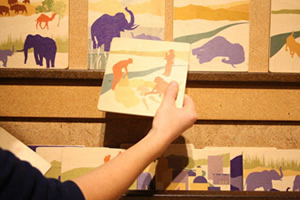 During the prototyping process for this exhibit, the initial rendition of the story sequencing presented the story cards on a table with a slanted board resting on a large ridge. Next to the cards was a small button that, when pushed, cleared the story cards from the board by dropping them down below, essentially, deleting the cards. After the first round of prototype testing, the researchers from UC Santa Cruz shared that while families were putting stories together, they were afraid of the "delete" button and in fact, many felt they were doing something wrong.
After this initial research, our exhibits team created a second rendition of the story sequencing exhibit, this time with a magnetic board that held the story cards in place. This time, our prototype testing indicated that, while the "fear" of interacting with the exhibit was gone, families were not telling as many stories and they were not very engaged with the exhibit. The third round of prototype testing introduced a bench large enough for both a parent and a child to sit together in front of the stories which were again presented on a slanted board. This time, instead of a "delete" button, our exhibits team extended the length of the ridge to allow more room for the extra cards.
Our ultimate goal is to create exhibits where families are engaged both physically and mentally in their learning. Each of our exhibits undergoes a similar process to make sure that families are having the meaningful experiences we're hoping for. This process is certainly time intensive, and many museums don't have the resources to conduct the research and build prototype exhibits to test and re-test, but for us, and the partners who've helped make this process possible, it's a great opportunity to bridge academic research with everyday life for a positive and fun influence on the community.
Have you ever wondered just what a psychology research lab looks like? A Google image search yields millions of photos of bare rooms with white walls, tables, computers and researchers wearing lab coats. Technology aside, these images aren't much different than that of Indian University's 19th century research laboratory, featured on the left. Research labs are designed to maintain the controls in a study to allow the data collected to be as accurate and precise as possible, which explains why they often only involved the bare necessities needed to conduct the research and nothing more. But what do you do when you want to explore social or cultural nuances within your study? If you're cognitive development psychologist, Megan Luce, you conduct your research at our Museum.
"Research on cognitive development has traditionally been approached without serious consideration of the social and cultural aspects of children's lives," says Luce. For her doctoral research Luce wanted to understand how variations in families' values about science and knowledge relate to variation in children's scientific thinking and CDM offered a more natural "laboratory" where families are thinking, talking and playing together.
Luce conducted three types of research here at the Museum; prototype testing under Dr. Maureen Callanan, 'Front-End' research, and basic cognitive development research. The Front-End research explored questions about children and families before we begin to build Mammoth Discovery! These studies involved interviews with children of various ages regarding their knowledge of mammoths and other Ice Age animals which helped to give us a foundation of base knowledge to build on so we could incorporate this into the exhibition design. The third type of research, actually served as research for Luce's dissertation. Luce I invited families to step off the museum floor into a quiet room to do some problem-solving activities together.
Research on children's learning in the Mammoth Discovery!exhibit is still ongoing, and we expect to learn much from our research on the final exhibition. Throughout prototype testing, the UC Santa Cruz researchers discovered the various ways that children and families approach science learning in a museum setting. Some children are interested in exploring the exhibits on their own, whereas other children explore the exhibits in collaboration with another child or an adult. The latter finding influenced our exhibit design to include more collaborative play exhibits in the final exhibition. Their research also illuminated the varied families as a whole take to engaging with the content of the exhibits. For example; some families are interested in discussing the social aspects of the mammoth asking questions about whether Lupe had brothers or sisters and whether she played with other mammoths. Other families were interested in discussing the life-cycle of Lupe, talking about how she might have died and why there are no more mammoths on Earth. And still other families are interested in discussing the nature of the fossils that were found by exploring where are Lupe's other bones. We took this research to heart as we designed Mammoth Discovery! and the result is an exhibition that allows families to engaged with the content in a manner that resonates with them.
"The most rewarding part of my involvement with the Lupe team has been the intellectual stimulation," reflects Luce. The collaborative efforts of our own research with that of the UC Santa Cruz researchers not helped to ground Mammoth Discovery! on a solid scientific foundation, but it influenced our design and contributed to the larger knowledge base on cognitive development. "My own thinking about children's learning has been greatly enhanced by many conversations with the team about how best to design science experiences to engage children in fun and high-quality learning." We've valued this collaboration immensely through the process so much so that the Mammoth Discovery! gallery includes space for a permanent research lab to ensure that mutually beneficial projects like this continue in the future.
In House Productions
One of the most popular questions fielded by exhibits craftspersons is, "where do you get the kits?"
"I'm sorry?" they reply.
"You know, for the exhibits," the story continues.
At this point it's clear the visitor is operating under the misconception that we buy our exhibits from an outside fabricator. It's true, our Mammoth Discovery! gallery is a collaborative effort from many people, but as craftsman, Glen Tulloch, put it "everything that moves, we build."
After our Exhibit Development Team comes up with a solid concept for an exhibit, our team of craftspersons then fabricate the interactives, prototypes, and final products in our 1,200 square foot workshop. We've mentioned before how crucial our prototyping is to exhibit development, and our craftspersons play a large role in aiding that process. All in all they built over 30 different prototype exhibits, in addition to the 12 final exhibits, using as many green building materials as possible. But coming up with the design is only half of the battle.
Often times our craftspeople influence exhibit development as the work through fabricating exhibits. In the case of the weight scale exhibit, craftsperson, Chris Chan, spearheaded the fabrication of this exhibit and realized in the prototyping phase that there were some critical modifications that needed to be made to create a final product. First, as with many exhibits, this scale needed to be able to withstand the unique ways families interact with our exhibits, which included parents using the scale to test the weight of their children. Furthermore, the exhibit needed to be free moving and be structured in such a way that children's fingers wouldn't be pinched on any of the moving parts. All of these considerations, while very important, are difficult to discern in design and it took developing an actual prototype scale to shed light on them.
In order to complete the iterations of our exhibits, the team divided and conquered, letting each person tackle the exhibits that aligned with their specializations or areas of interest. While the prototyping phase in very important, unanimously, our team enjoys working on the final products much more. Once final exhibit designs are decided on, the craftspersons then cycle back through their fabrication process and bring unfinished pieces to the Planning and Development teams to play with before putting all the components together and placing them on the gallery floor.
Mammoth Discovery! is a project that is near and dear to the hearts of everyone on our staff for myriad reasons, and everyone has a favorite exhibit that they can't wait to see children latch on to. While many favor the Dig Pit, our craftspersons selected the imaginative play exhibits because of the endless opportunities children will have to tell their own stories. While these exhibits are specifically designed to help children tell a story, the entire exhibition tells our story and that would not be possible if we didn't have such skilled craftspersons on staff to make discovery a reality.