When:
December 19, 2015 – December 24, 2015
all-day
2015-12-19T00:00:00-08:00
2015-12-25T00:00:00-08:00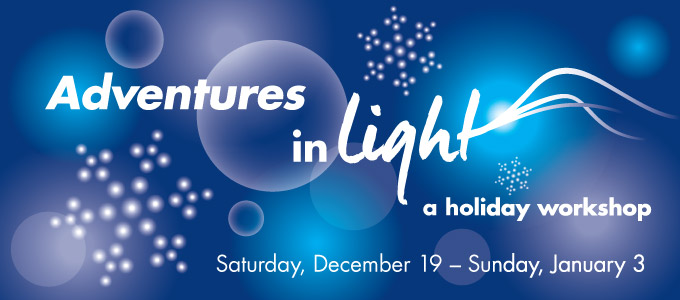 Adventures in Light: A Holiday Workshop
From shadow to shine, reflection to refraction, and glimmer to glow – visit us this holiday season and experience light in a whole new light! The illumination has begun with ShadowDreamScape, combining light and movement in surprising ways. More interactive light-inspired adventures begin on December 19, 2015 with the openings of Night Light, exploring the excitement of bioluminescence, and Through the Lens, investigating the world of light and images. The light won't last long, so make your plans to visit now.
ShadowDreamScape
Explore the world of shadow, light, and illusion in ShadowDreamScape, created by artist-in-residence Megan Flod Johnson in partnership with Museum Education and Exhibit staff. Participate in play and performance as you follow a dream narrative involving five captivating characters – moth, hand, figure, rabbit, and tangle. Engage with shadow vignettes and exhibits and interact with performers through large- and small-scale body experiences.
Learn more about artist Megan Flod Johnson.
Night Light
Unplug and leave the city behind as you enter into the world of Night Light. Explore the wonder of bioluminescence and experiment with natural light. Includes a full- sized Exploration Cave glowing with life, a Cozy Campsite where you can engage in shadow puppetry or story time, a rock building station, and a pond surrounded by plenty of fireflies to chase.
Through the Lens
Illuminate your imagination in Through the Lens. In Motion Magic, your body movement will interact with projector images, producing colorful patterns and designs on the floor and walls. Or try creating a spectacle of shiny, swirling light using illumination devices directed into Reflection Boxes. See refraction in action while gazing into a Camera Obscura. And you won't want to miss a chance to custom craft a pair of multi-colored glasses to alter the view of the patterned lights that fill the exhibit.