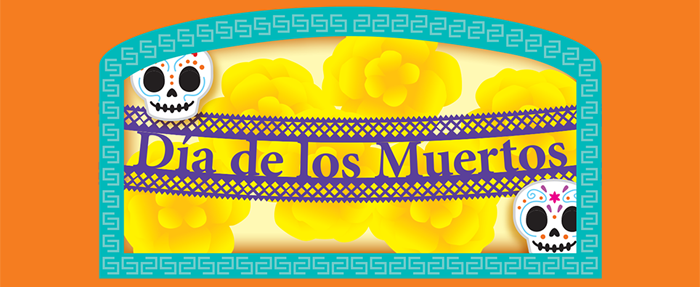 Join us for this joyful family celebration that honors the lives of departed ancestors and loved ones!
Día de los Muertos
Saturday, October 28
9:30 a.m. – 12:30 p.m. and 1:30 p.m. – 4:30 p.m.
Join us for this joyful program where we honor the lives of departed ancestors and loved ones. Create a stunning sand painting with stencils, learn about the rich traditions of Día de los Muertos, and delight in the bigger-than-life skeleton puppets and the Calaveras procession led by Teatro Familia Aztlán. The museum's procession is uniquely exciting – it includes a stop at Lupe, the 14,000 year-old "muerto" mammoth.
At each session's performance, visitors will be invited to write down names of loved ones who have passed and say those names aloud to the audience. It's a touching way for parents, children and family members to celebrate traditions and customs together. Visitors are also invited to bring a personal memento to share on a community altar created for the day and visit a spectacular altar created by artist Lissa Jones in the Oaxacan tradition that will be on view October 23 through November 2.
Lissa travels regularly to Mexico (specifically, Oaxaca) for inspiration and to experience what she describes as the "generosity of spirit" of the Oaxacan people. Lissa has exhibited her work nationally and internationally, and has built numerous altars at Children's Discovery Museum to celebrate Día de los Muertos. Her altars have been exhibited at venues throughout the Bay Area including the Oakland Museum of California. This year, concurrently, she is exhibiting in San Jose at the Dr. Martin Luther King, Jr. Library, the School of Arts and Culture at MHP, and the San Jose Museum of Art.
Altars often hold objects reflecting a mixture of indigenous beliefs, Catholicism, pop culture, personal treasures, and the practical. For this altar, Lissa has incorporated a selection of special items to honor children who have passed on, including fruit, sweets, lotería and toys. Join us in celebrating the lives of your own loved ones.
Translated "The Day of the Dead" is a holiday traditionally celebrated on November 1 and 2. It largely originated in Mexico, where it is observed, but it is also celebrated in other areas and especially by people of Mexican heritage. Let's learn more about this holiday together.
Special thanks to our presenting sponsor: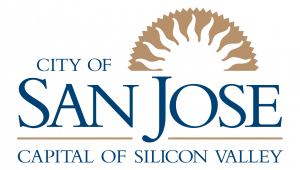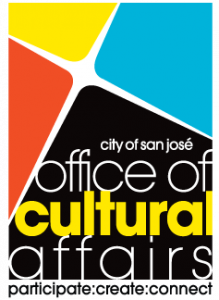 This program was made possible, in part, by a Cultural Affairs grant from the City of San Jose.
Children's Discovery Museum of San Jose is supported in part by an American Rescue Plan Act grant from the National Endowment for the Arts to support general operating expenses in response to the COVID-19 pandemic.
HIGHLIGHTS FROM PAST EVENTS
This celebration is created in partnership with the Museum's Latino Cultural Advisors
The museum is committed to promoting the region's diversity through the Cultural Celebration Series so that families of all backgrounds can explore the many cultures and traditions in Silicon Valley. Cultural celebrations offer opportunities for building global awareness for people to explore and understand their cultural differences and similarities.
The series includes: Mid-Autumn Moon Festival,  Diwali Festival, Dia de los Muertos, Menorahs & Miracles, El Dia de Los Tres Reyes Magos, Lunar New Year, Children of the Dragon, Proud of My Family, and Juneteenth.